About adidas Originals Watches
Adidas are most well known for their range of sporting wear. the Adidas Originals watch range is inspired by Adidas' passion for sport and expands on that passion with a range of high quality watches. Adidas Originals watches are not just for sports lovers, the range includes watches that are perfect for fashionable outings as well as the race track!
Brand History
Adidas were founded in 1924 as "Gebrüder Dassler Schuhfabrik" by brothers Adolf (known as Adi) Dassler and Rudolf Dassler, the name translates as Dassler Brothers Shoe Factory. The brand became world famous when they provided Jessie Owens with running shoes during the 1936 Olympics where he won four gold medals. The brothers fell out during the 1940's and split into two separate brands. Rudolf Dassler created Ruda (which went on to become Puma) and Adi Dassler formed Adidas. The name Adidas was created using the letters from the name he was known as - Adi - and the first three letters of his surname - Das. Over the rest of the century Adidas became a world renowned sports brand and they are one of the top brands in the world for Football Kits; producing kits for Bayern Munich, Real Madrid, Chelsea and Manchester United.
Sporty and Functional
Adidas Originals watches fit the sporty and functional ethos of the brand perfectly. You can see the sporty inspiration in designs like the
Adidas Originals Unisex Santiago Watch
and the
Adidas Originals ADH2966 Gents Watch
. But the Adidas Originals watches are also incredibly reliable, they are extensively tested and improved to ensure that the watches are fantastic value for money.
Not Just a Sports Watch
Adidas Originals watches are designed to be worn anywhere, watches like the
Adidas Originals ADH2971 Gents Watch
are a perfect compliment to a fashionable outfit as well as a great sports watch.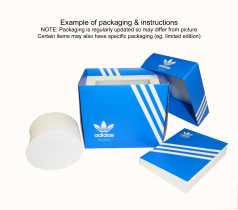 Official adidas Originals UK dealer
Great prices and savings on high street RRPs
Make us an offer service
Thousands of online reviews - average rating 4.9 / 5: Google Reviews - Trustpilot - ResellerRatings
Free bracelet adjustment available on metal watches
Over 20 years of high street watch and jewellery experience
---